NX Horizon-XTR
The industry's most advanced
all-terrain

solar tracker
All-Terrain Solution
NX Horizon-XTR™ breaks the paradigm of "straight-line row" design constraints by conforming to natural terrain. This generates multiple benefits such as eliminating cut and fill earthworks, reducing pier lengths, and easing permitting, ultimately accelerating project construction schedules and saving time and money. The latest version, XTR-1.5, doubles XTR's ability to conform to sloping terrain, further expanding opportunities for solar development on challenging sites.
Download Datasheet
Download Case Study
Key Features and Benefits
NX Horizon–XTR the field-proven solar tracker for rolling terrain with more than 3 GW deployed on multiple continents.
Save on earthworks with less grading
Save on foundation steel with lesser pile lengths
Less soil re-seeding helps maintain topsoil health and native vegetation
Less dust control with minimal grading resulting in less module cleaning requirement
Minimize schedule risk by reducing permitting risk and easing environmental concerns
Prevent soil erosion due to grading, topdressing, and hydrology impacts
Industry's Most Advanced All-terrain tracker
NX Horizon-XTR takes on uneven terrain in stride. By conforming to the ups and downs of varied terrain, NX Horizon-XTR breaks the paradigm of tracker rows requiring installation on a single plane. This minimizes earthwork, reduces foundation steel and keeps construction costs and schedules in check.
Watch Video
NX Horizon-XTR:

The Key to Unlocking the Value of Challenging Project Sites

Nextracker's terrain-following solar tracker reduces earthwork, lowers project risk, and simplifies construction on undulating or difficult terrain.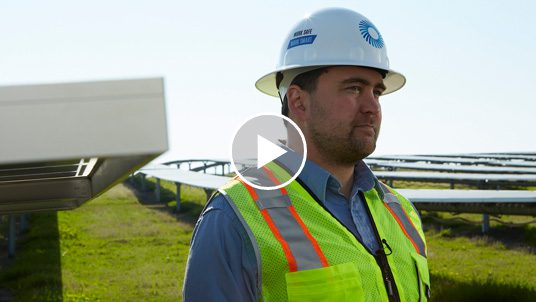 Donny Gallagher
VP Engineering, SOLV Energy
"We are seeing more and more projects these days having undulating terrain, and Horizon-XTR allows us to build up and over a hill, without having to flatten it out."
Nick de Vries
SVP of Technology and Asset Management,
Silicon Ranch
"Horizon-XTR allows us to decouple some of the earthwork that used to be mandatory and allows us to build the best structure for the land as it is now."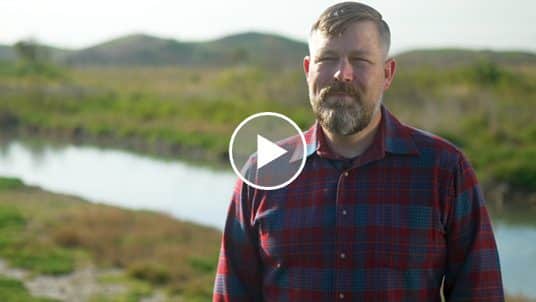 Greg Beardsworth
Senior Director, Product Management, Nextracker
"Horizon-XTR breaks the long-time tradition of straight-line rows, unlocking major savings in terms of grading and in terms of foundation pile lengths."
Alex Roedel
VP of Design and Engineering, Nextracker
"Horizon-XTR has an unbelievable response from our customers because not only does it help them save on earthwork and pile length upfront, it also saves them on labor risk management."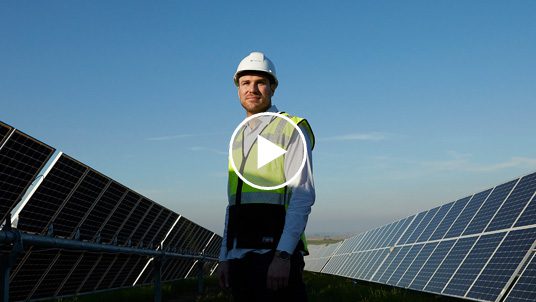 Going Beyond

"Business as Usual"
for Tough Terrain Conditions
As solar power project opportunities expand into new regions and availability of once-ubiquitous flat land becomes increasingly rare, project developers are turning to sites with sloping and undulating terrain.
Uneven terrain presents unique risks for developers, who must employ costly, environmentally impactful grading and increased foundation steel, which can challenge the economics of otherwise attractive solar projects.
The "business as usual" approach to dealing with undulating terrain includes careful selection of tracker-row locations, performing cut-and-fill grading and increasing foundation pile lengths.
While proven, this approach limits system size, increases construction costs and creates schedule risk.
Accuracy of cost and schedule estimates for grading activities are a known challenge, due to the possibility of unexpected soil conditions, weather delays and re-vegetation challenges.
In addition to cost adders and schedule risk during the construction phase, the soil disturbance from earthwork can introduce soil erosion issues over the lifetime of the project.
Follow the Grade
With NX Horizon–XTR
By following the grade on varied terrain, NX Horizon-XTR breaks the paradigm of tracker rows requiring installation on a single plane. This minimizes earthwork, reduces foundation steel and keeps construction costs and keeps schedules in check
Follow the Grade

With NX Horizon-XTR:
Deployed, Field Tested, Proven
Substantially
Reduces


Site Grading

Real-world example: 120 MW solar plant, Iowa, U.S.
NX Horizon — XTR Savings:
Grading cut/fill reduction:
225,563 CuYd (172,455 m3)
Disturbed land area reduction:
3,079,039 sq. ft. (286,052 m2)
Radically
Reduces

Foundation Costs Expense

Real world example: 328 MW solar plant, Texas, U.S.
NX Horizon — XTR Savings:
Foundation pile length reduction:
27″ (68 cm)
Total foundation weight reduction:
1,928,602 lbs (874,799 kg)